With a history of educational excellence going back nearly 50 years, Nansemond-Suffolk Academy had a high bar to maintain when they set their sights on opening a second lower school campus—while expanding and enhancing their main campus.
The independent school in Suffolk, Virginia, approached us in 2013, just before their 50th anniversary, and engaged us to conduct a campaign planning study. It was clear to our team that the school had a strong base of loyal, generous donors, a great advancement team and a solid comprehensive development program in place—and a staff that was willing to learn how to conduct a successful campaign.
Through in-depth analysis, we determined the financial potential was there, but the critical element to their success would be the identification of the right leadership for the campaign.  Their board of directors had been somewhat involved in their annual fundraising, but a new level of engagement in pursuing major gifts was going to be necessary from them and from others to do all they wanted to do.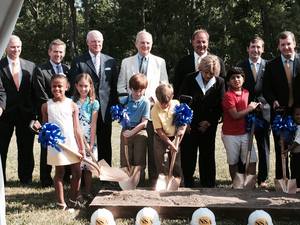 We coached them on how to recruit and engage leaders, both for a campaign leadership committee and beyond. We guided their board and staff through the campaign, working alongside them on major gift calls, staff retreats, training volunteers and staff, and reviewing grant applications. The board, staff and volunteers worked as a seamless team, modeling the best in fundraising practices—especially in relationship building.
As a result, NSA far exceeded their $6 million fundraising goal—surpassing the $8 million mark—both for enhancements to their main campus and to create the new campus in Harbourview, which opened in September 2016 just in time for NSA's 50th anniversary celebration! We were honored to attend both the groundbreaking and the ribbon-cutting ceremony for the new lower school campus.
We were impressed with NSA's hard work and dedication, and the feeling appears to be mutual:
"The consultants immersed themselves in our school—The Curtis Group has become an unofficial member of our team, staying in communication almost daily and keeping us on task. In both our planning study and our campaign, they've given us great advice and feedback!"

Kenda Goldberg Council '91
Director of Advancement, Nansemond-Suffolk Academy
I was pleased to see Kenda named this year's Outstanding Fundraising Professional by AFP Hampton Roads at this year's National Philanthropy Day celebration.
If I had to pick the top factor in NSA's success, it was leadership. Their board and volunteers secured several very large gifts. Their head of school and development professionals demonstrated great professionalism and best practices. This really is a great example of how a strong team of volunteers and staff can make a campaign a real success.