American individuals, estates, foundations and corporations contributed an estimated $390.05 billion to U.S. charities in 2016, according to Giving USA 2017: The Annual Report on Philanthropy for the Year 2016, released today.
Giving USA is the longest-running and most comprehensive report of its kind in America. It is published by Giving USA Foundation, a public service initiative of The Giving Institute, and is researched and written by the Indiana University Lilly Family School of Philanthropy.
As immediate past chair of Giving USA Foundation, I was pleased to see another year of growth—moderate but steady. Total giving rose 2.7 percent in current dollars (1.4 percent adjusted for inflation) from the revised estimate of $379.89 billion for total giving in 2015.
Individual donors really helped drive giving—they are the biggest piece of the charitable giving pie and showed a nice increase of 3.9% over the previous year. Charitable giving from foundations and corporations also increased in 2016, while gifts by estates decreased sharply. Giving to all nine major categories of recipient organizations grew, making 2016 just the sixth time in the past 40 years that this has occurred.
Wendy McGrady, executive vice president of The Curtis Group, was also involved with the report—co-chairing the Giving USA Editorial Review Board. She noted that it's interesting to see the number of U.S. nonprofits in operation has returned to its previous level—before the IRS decertified 250,000 of them a few years ago. "That means even with more nonprofits competing for private dollars, giving is still up, people are still generous and nonprofit fundraising programs (the ones doing it right) are still successful."
New to this year's edition of Giving USA is a special section on donor-advised funds, which provides analysis of major trends in both giving to and from these charitable vehicles. You will find insight and advice from The Curtis Group included in this section.
Helping to increase giving by individuals and households, both personal consumption and disposable personal income grew by nearly 4 percent last year over 2015. The S&P 500 finished the year up 9.5 percent after uneven performance for much of 2016 and a mixed economic picture in 2015.
Here are the key statistics from the report:
Giving by Source
(in billions, all figures rounded)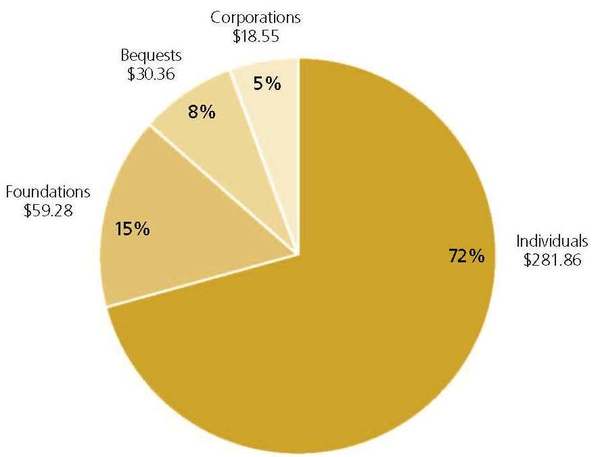 Giving by Sector/Recipient
(in billions, all figures rounded)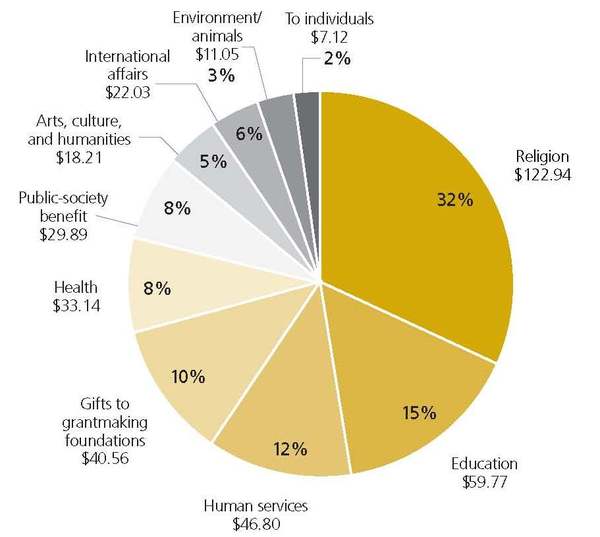 Overall Trends We're Seeing
& Curtis Group Practical Trends
High-Net-Worth Individuals Continue to Drive Giving
Top earners continue to be top givers, accounting for about 50% of all charitable dollars. These savvy donors are thinking of their giving as investment philanthropy and need to see direct impact. To attract/retain them, nonprofits must work to build meaningful relationships with consistent communication.
Investment in Infrastructure Drives Growth
The highest-performing nonprofits have made strategic decisions to invest in the health of their fundraising operations. This means having staff to manage their efforts, a highly functioning database and tools such as wealth screening and prospect research.

Growth of Giving Vehicles 
Giving vehicles are on the rise—especially donor-advised funds, accounting for 5% of all giving last year. Fundraising professionals must be aware of this trend and understand their benefits and restrictions.
Donor Retention is a Challenge 
The past 10 years have seen a small but steady decline in donor retention rates across virtually all sectors. To combat this, organizations need to focus on staying in touch with current donors and consider ways to recapture lapsed givers. As we all know, the cost to retain a donor is just a fraction of what it costs to attract a new one.
Political/Economic Uncertainty Influences Donor Behavior 
The political climate of 2016 drove donations to causes susceptible to policy change. Looking forward, potential tax and regulatory shifts may continue to impact donor behavior. Nonprofits must keep informed on legislation that might affect their sector and have regular conversations with their donors and board members around these issues and how to get involved.
---
HEAR US SPEAK ON GIVING USA
We'll be sharing more Giving USA highlights and analyses at these events: